Posted on
August 4th, 2010
by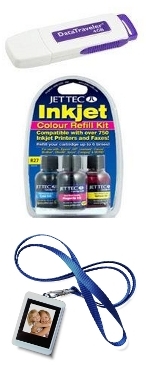 The Better than Half Price Sale is now on at Ink Factory.

With huge savings on a wide range of everyday computing essentials such as ink cartridges, photo paper and memory sticks, it's a great chance to stock up and save some serious cash!

Top offers include:

Save 58% on Gloss photo paper – Now £0.99
Save 67% on Digital photo frame keyring – Now £4.99
Save 50% on Universal black ink cartridge refill kit – Now £4.00
Save 72% on 4GB USB Memory Stick – Now £4.49

Delivery is free on orders over £10, and with a 100% satisfaction guarantee offered to all customers, you can be sure that you're buying quality products.

Plus, FreeCashback members earn a generous 9% cashback!

To get your hands on the best of the bargains, shop with Ink Factory now – but hurry, the sale ends on 20th August!

Filed under: Seasonal Offers, Special Offers, Uncategorized