Popular Discounts
Super Spring Savings on FreeCashback.co.uk!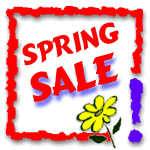 Spring is in the air so if you're looking to treat your family to a fun day out we have great deals to make your budget go further!
If you're desperate for a bit of sunshine and searching for a getaway, visit our Travel section to find big discounts on hotels, car hire, flights and holiday packages.
We put the best voucher codes in this section and you can stay abreast of general special offers and extra cashback savings at dozens of retailers here.
Want to see what savings are available at specific retailers? Use the quick search box on the top right-hand corner of every page.
Many of our members are saving hundreds of pounds a year on making their regular purchases at their favourite retailers via FreeCashback.co.uk, so add us to your browser favourites or bookmarks – click CTRL and D on your computer – and keep checking in to see the latest discounts our team of deal hunters have procured for you!
This spring we've collected some quotations from the media which show why Britain is going cashback-crazy!:
"New kind of portal is appearing, offering cash back on purchase made at linked online stores."
"These sites reward their users by refunding a percentage of what they spend."
"Believe it or not, there are companies out there that really do value you as a customer. In fact some are willing to pay you to buy the goods and services that you would spend money on anyway."