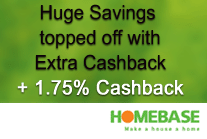 This week at Homebase you can save a packet on all lounge & dining room furniture, sofas & chairs and much more.
If you are thinking of jetting off, take out a single trip policy with Debenhams. Covering you from 3 to 365 days away.
Give your wardrobe a make-over and save a bundle on a great selection of clothing and shoes for everyone at M&S.
Tesco are offering online shoppers' huge savings on their grocery deliveries with their new Grocery Delivery Saver plan.
Other great savings at Wallis, Weight Watchers, Boots and more when you shop online at FreeCashback.

Many thanks,
Karen Clayton
Editor

Homebase
20% off all Lounge & Dining event (including Habitat) until 28th March. Easter weekend: 15% off everything (Fri 29 Mar – Mon 1 Apr). Loads of other great savings include 1/2 price solar lighting, bathroom suites, small kitchen electrical and more.
Plus 1.75% back

Debenhams Travel Insurance
Whether you're travelling on business or pleasure Debenhams have the right cover for you. Get a 10% discount voucher to spend online or in-store when you buy any Debenhams Travel Insurance policy before 31st March. Please see site for details.
Plus 5% back

M&S
M&S Easter event is on with 20% off shoes for all the family, as well as selected women's, men's and kids wear. Save up to 30% on selected furniture and 20% on selected home wares until 2nd April. Further reductions savings up to 75% on selected items.
Plus 1.5% back

Tesco Grocery Delivery Saver
Save money on your grocery shopping with the Tesco Grocery Delivery Saver. Simply make an up-front payment and then watch your grocery delivery charges disappear! Use our discount code to save 50% on 3 or 6 Month Delivery Saver plan until 31st March.
Plus 5% back

Accor Hotels
Get 3 nights for the price of 2 in over 1300 hotels worldwide when you book before 16th April and stay before 31st May 2013. Save up to 30% when booking 30 days in advance at selected hotels until 31st April. Top it off with extra earnings until 31st March too.
Plus up to 5% back
Snap Up the Latest Discounts and Earn Cashback at Homebase, M&S, Accor Hotels and Tesco!